If aging, acne, or excessive sun exposure has left your face with blemishes, scars, and wrinkle lines, laser skin resurfacing offers a solution to help you achieve a younger and healthier appearance.
Laser skin resurfacing is a precise procedure that gently removes layers of skin, allowing new skin cells to form during the healing process. This promotes the development of tighter and more youthful-looking skin, revitalizing your overall complexion. Whether performed as a standalone treatment or in conjunction with other cosmetic surgeries on the face, laser skin resurfacing can help you achieve your desired aesthetic goals.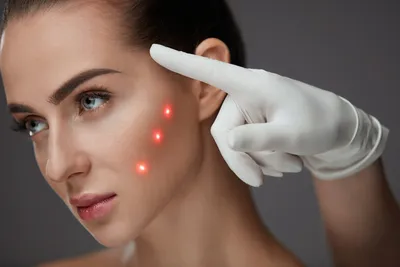 Benefits of Laser Skin Resurfacing:
Improved Skin Texture: Laser treatment targets and reduces the appearance of uneven skin texture, including acne scars, wrinkles, and fine lines. The result is a smoother and more refined complexion.
Even Skin Tone: Laser resurfacing helps to fade hyperpigmentation, sunspots, and age spots, resulting in a more even and uniform skin tone.
Tightened Skin: The heat from the laser stimulates collagen production, which helps to tighten and firm the skin, reducing sagging and promoting a more youthful look.
Minimized Pore Size: Laser treatment can also help minimize the appearance of enlarged pores, giving your skin a smoother and more refined appearance.
Quick Recovery: Depending on the depth and intensity of the treatment, the recovery time for laser skin resurfacing is relatively short compared to other surgical procedures. However, it is important to follow post-treatment care instructions provided by your dermatologist or cosmetic surgeon.
Types of Laser
Ablative Laser 
Non-Ablative Laser
Solid Laser
Gas Laser
Liquid Laser
Semiconductor Laser
Laser Procedure
Laser resurfacing as an outpatient procedure. Your care team will numb skin with medication. For extensive resurfacing, such as treatment to your whole face, you might be sedated.
During ablative laser resurfacing, an intense beam of light energy (laser) is directed at your skin. The laser beam destroys the outer layer of skin (epidermis). At the same time, the laser heats the underlying skin (dermis), which stimulates collagen production over time, resulting in better skin tone and texture. Ablative laser resurfacing typically takes between 30 minutes and two hours, depending on the technique used and the size of the area treated.
If you're undergoing nonwounding laser or nonablative laser treatment, a series of treatments is typically scheduled over the course of weeks or months.
Laser skin clinic Mumbai, offers a powerful solution to address skin imperfections, rejuvenate your appearance, and boost your confidence. With the guidance of a skilled dermatologist or cosmetic surgeon, you can experience the remarkable benefits of this innovative treatment. Say goodbye to blemishes, scars, and aging signs, and say hello to a refreshed, more youthful you through laser skin resurfacing.