Treatment
Platelet rich plasma (PRP) is concentrated blood plasma that contains high concentration of platelets and growth factors found than the normal. It contains platelet-derived growth factor (PDGF), vascular endothelial growth factor (VEGF), transforming growth factor (TGF) and other bioactive proteins that help in the rejuvenation of skin.
PRP is a facial regenerative treatment that uses your own plasma to stimulate collagen production and cell migration, allowing for the elimination of lines, folds, and wrinkles. Results from PRP therapy are natural looking and subtle, and they can last for as long as two years. What's more, PRP is minimally invasive, has no risk of allergic reaction, and can be used to treat nearly any area of the body without risks of side-effects, making it ideal for patients who are not interested in or are not good candidates for injectable fillers.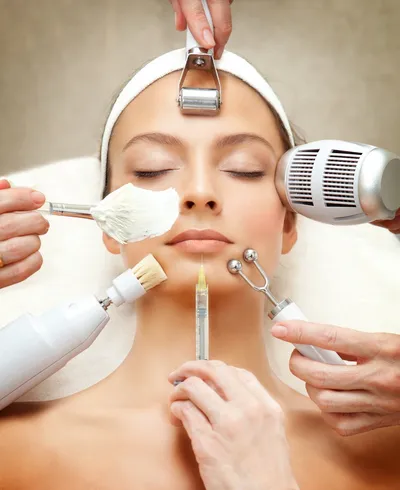 BENEFITS OF PRP SKIN REGENERATIVE TREATMENT
Non-Invasive :
PRP is a non-surgical process. The platelet-rich plasma extracted from the patient's blood sample is simply injected into the area to be treated with a small needle.
Quick :
Since it's a non-invasive process, PRP treatments can sometimes take, as less as 30 minutes. Once the platelet-rich plasma is activated, it mimics an injury response in the body. Healing and growth factors work to remodel the epidermis and enhance the texture and appearance of the skin. As the body begins to produce natural collagen in the affected area, results are noticed within the first few weeks following the first treatment, and the skin's appearance continues to improve over time.
Long Lasting :
The process is quick, but the result is just the opposite. For optimal results, three or four treatments may be recommended, after which the benefits will continue to be visible for up to 18 months or more.
All Natural :
Your body naturally produces the ingredients necessary to rejuvenate your skin. Every treatment is formulated using blood from the patient's own body. This means there is no chance of allergic reaction, infection, or rejection of the treatment– the same can't be said of synthetic fillers.
PRP SKIN REJUVENATION TREATMENT PROCEDURE
The PRP treatment is a simple, safe procedure
Blood is taken (just like any other blood test), and then spun in a centrifuge machine for around 8-10 minutes
The whole procedure gets over in 20 minutes.
The amount of blood taken from the body can be from 10ml to 30ml, based on the number of targeted areas to be treated.
During the centrifugation process, the cells are separated the top layer of blood, fibrin, is extracted along with the rich platelets and re-injected into the targeted area.